What is XLH
What is XLH
What is XLH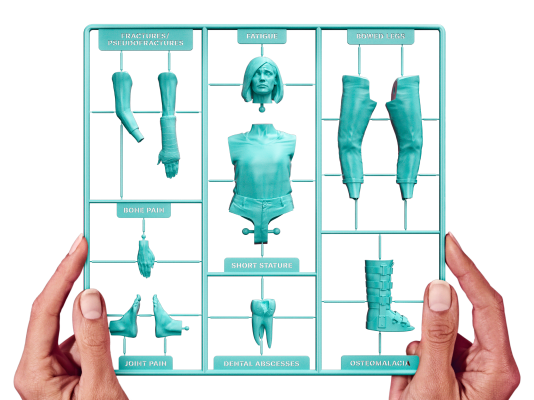 XLH is a rare, lifelong, genetic disease
X-linked hypophosphatemia (XLH) is a hereditary, progressive, and lifelong rare disease that affects up to 1 in 20,000 people. XLH can affect the bones, muscles, and teeth of both children and adults. This is due to excessive loss of phosphorus. New symptoms of XLH may appear as you get older and can worsen or change over time.
Hypophosphatemia (the H in XLH) is a condition caused by a low level of phosphorus in the blood.
Phosphorus is also found in your bones and is responsible for:
XLH is caused by a genetic mutation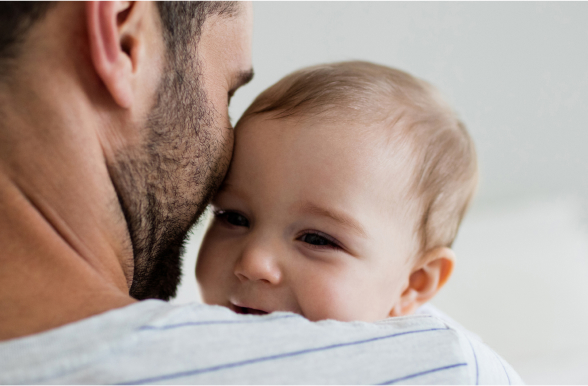 People with XLH have a mutation in a specific gene called the PHEX gene. This mutation causes the body to produce too much of a hormone called fibroblast growth factor 23 (FGF23).
When the level of FGF23 is too high, too much phosphorus is lost in the urine. This process, known as phosphate wasting, causes the level of phosphorus in the blood to drop too low. This is known as hypophosphatemia, which can lead to weak bones.
Your doctor may refer to XLH by many different names. These include:
X-linked hypophosphatemic rickets
Hereditary hypophosphatemic rickets
Familial hypophosphatemic rickets
Vitamin D–resistant rickets (VDRR)
Vitamin D–resistant osteomalacia
X-linked vitamin D–resistant rickets
Hypophosphatemic rickets
Hypophosphatemic vitamin D–resistant rickets (HPDR)
X-linked rickets (XLR)
Genetic rickets
Familial hypophosphatemia
XLH often runs in the family
XLH is a hereditary condition.
X-linked (the XL in XLH) means that the condition is most often passed down through families by the X chromosome.
People with XLH can inherit the condition from the X chromosome of either their father or mother.
If a father has XLH:
All of his daughters will have XLH. This is because daughters always inherit an X chromosome from their father. No sons will have XLH because sons get the X chromosome from their mother.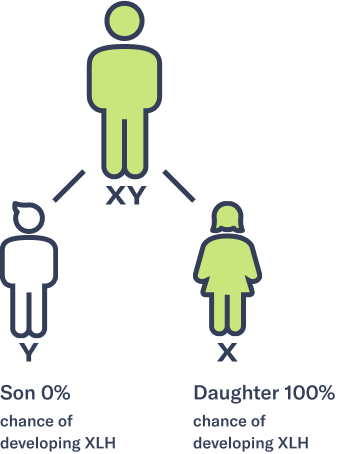 If a mother has XLH:
Her children (both sons and daughters) each have a 50% chance of also having XLH. This is because all children inherit an X chromosome from their mother.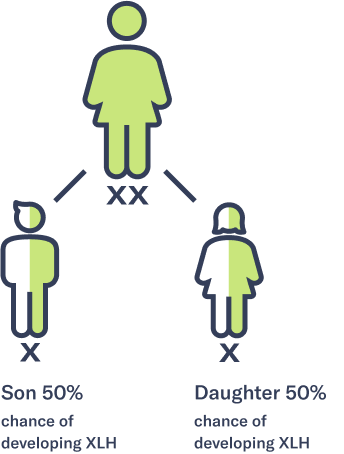 Did you know?
Although XLH is a hereditary condition, it can also occur spontaneously in those without any family history. About 20% to 30% of people develop XLH as a result of spontaneous mutations, which can then be passed on to their future children.
Sign up to receive helpful resources, get important event invites, and hear real patient stories that will support you on your journey.
Sign up